Shockwave Therapy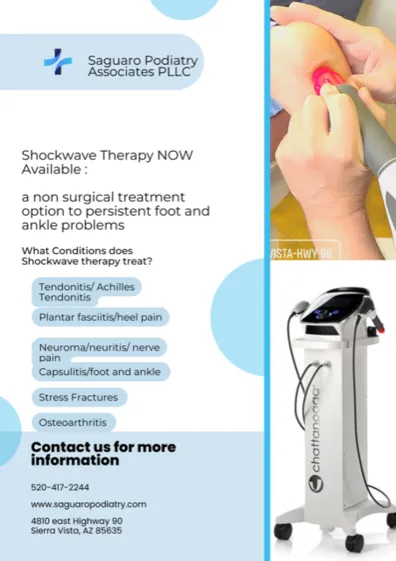 Shock Wave therapy/RPW

Radial pressure wave (RPW) therapy uses ultrasound technology to treat bone and soft tissue injuries. Also known as shockwave therapy, RPW therapy sends high-energy acoustic (sound) waves into the treatment area to help reduce muscle pain and aches and promote healing without surgery or medication.
Shockwave therapy dates back to the 1980s. In the last two decades, shockwave therapy has increasingly been used for treating musculoskeletal disorders. The wave hits the body at skin surface and travels to a depth of around 2", where it creates oscillations – repetitive back-and-forth movements – in the tissue. This stimulates blood supply and cell growth in the damaged area, leading to the regeneration of healthy tissue and bone.1
Potential Benefits of RPW
RPW therapy has been shown to safely and significantly reduce tendon pain and improve functionality and quality of life without surgery or medication.2 It is non-invasive and has no known adverse side effects. RPW treatments generally take place in the doctor's office or clinic using devices such as the Intelect Mobile® 2 RPW and Intelect® RPW 2.

What is it used for?
RPW therapy has been shown to help improve pain in various musculoskeletal conditions.3-10
Tendinitis/Achilles tendon pain

Plantar fasciitis

Myofascial trigger points

Disorder of tendon insertion

Painful Peripheral Neuropathy

Neuroma

Capsulitis
Neuropathy:
Neuropathy is a medical term used when nerves don't work properly because they are damaged or destroyed.
Patients with neuropathy usually describe it as as a painful sharp, stabbing, burning or tingling sensation. Some Medicines can reduce the pain associated with Neuropathy. We are presenting a non invasive, no chemicals treatment option In cases of chronic painful peripheral neuropathy secondary to Diabetes mellitus AWT (Acoustic Wave Therapy) could provide considerable relief.
Q: Why is AWT a good treatment option?
Low-energy extracorporeal shock wave treatment (ESWT) is used for the treatment of Neuropathy, plantar fasciitis, neuroma, tendinitis, bone and wound healing among other conditions. Shock waves are sonic pulses with high energy impact, are thought to induce biochemical changes within the targeted tissues through mechanotransduction. The biological effects of ESWT improve vascularization, the local release of growth factors, and local anti-inflammatory effects, but the target cells too are influenced. ESWT has been proved to promote axonal regeneration.
Treatment protocol
During RPW, the clinician applies a gel to the treatment area that allows the RPW applicator to glide smoothly over the skin. Then gently applies pressure to the area with the RPW applicator. Treatment takes just a few minutes; naturally, larger areas will take longer to treat. Patients typically have three to four treatments.
Typically AWT treatment is done weekly or every other week. 1,500 to 2,000 pulses per foot are given per treatment. If there is a response after three or four treatments, we continue, usually every two weeks, until maximum benefit is reached. Then maintenance treatments can be done every 4-6 weeks.
How do you know that treatment is working?
A: Pain level can be measured on a Visual Pain Scale. 90% of people report a significant improvement with AWT treatment. Equally important, there are no reports of worsening of symptoms with AWT.
If you have musculoskeletal pain that has not been helped by other treatments, talk to your doctor about RPW therapy.
References:
Wang CJ. An Overview of Shock Wave Therapy in Musculoskeletal Disorders. Chang Gung Med J. 2003;26(4):220–232
https://www.ncbi.nlm.nih.gov/p...
Cristina d'Agostino M et al. Shock wave as biological therapeutic tool: From mechanical stimulation to recovery and healing, through mechanotransduction. Int J Surg. 2015 Dec;24(Pt B):147-53.
Damian M et al. Trigger point treatment with radial shock waves in musicians with nonspecific shoulder-neck pain: data from a special physio outpatient clinic for musicians. Med Probl Perform Art. 2011 Dec;26(4):211-7.
Beyazal MS et al. Comparison of the effectiveness of local corticosteroid injection and extracorporeal shock wave therapy in patients with lateral epicondylitis. J Phys Ther Sci. 2015 Dec;27(12):3755-8.
Cacchio A et al. Effectiveness of Radial Shock-Wave Therapy for Calcific Tendinitis of the Shoulder: Single-Blind, Randomized Clinical Study. Phys Ther. 2006 May;86(5):672-82.
Rompe JD et al. Eccentric Loading Versus Eccentric Loading Plus Shock-Wave Treatment for Midportion Achilles Tendinopathy. A Randomized Controlled Trial. Am J Sports Med. 2009 Mar;37(3):463-70.
Furia JP et al. A single application of low-energy radial extracorporeal shock wave therapy is effective for the management of chronic patellar tendinopathy. Knee Surg Sports Traumatol Arthrosc. 2013 Feb;21(2):346-50.
Gerdesmeyer L et al. Radial Extracorporeal Shock Wave Therapy Is Safe and Effective in the Treatment of Chronic Recalcitrant Plantar Fasciitis. Results of a Confirmatory Randomized Placebo-Controlled Multicenter Study. Am J Sports Med. 2008 Nov;36(11):2100-9. Rompe JD et al. Home Training, Local Corticosteroid Injection, or Radial Shock Wave Therapy for Greater Trochanter Pain Syndrome. Am J Sports Med. 2009 Oct;37(10):1981-90.